A Full Service Carpet Cleaner in Glendale
Are you looking for an expert that knows how to make absolute certain that you obtain the best carpet cleaning services at one of the best prices in the industry? Then you do not need to look any further than Turner Carpet Cleaning Service! When it comes to our professionals in Glendale, carpet cleaning solutions that are affordable and reliable are here for you to ensure that your carpets (and beyond) are cleaned better than ever before. Complete with friendly service and rates that cannot be beat, we guarantee that once you call Turner Carpet Cleaning Service, you will be blown away by what we can do to help. Please call our experts in carpet cleaning. Glendale– it's time to learn exactly what Turner Carpet Cleaning Service aims to do to help you!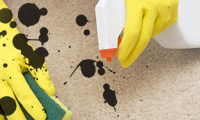 Do you know what you would do if you arrived to your home and discovered that your home has suffered fire and/or water damage? If not, then we want you to know that the best thing you can do in this type of situation is to make the call to Turner Carpet Cleaning Service today so we can provide you with the help you need to repair your home to a like-new condition once more. Using the best tools and techniques in the industry, we will remove the water damage or fire damage from your home and will assuredly do everything in our power to ensure that your 
home looks as elegant as it did before the accident. Why wait any longer? Make the call to our team today, and allow us to provide you with the cleaning service you are looking for.
Finally, we can also help you in the event that your tile and grout looks dirty and grimy. Dirty and grimy tile and grout can severely damage your tile and grout, and can even cause contaminants to pollute your air as well. While you could definitely clean your tile and grout on your own, most people have no idea as to how they can do this on their own, and most definitely do not have the time or the desire to clean their tile and grout on their own in the first place. 
You can edit text on your website by double clicking on a text box on your website. Alternatively, when you select a text box a settings menu will appear. Selecting 'Edit Text' from this menu will also allow you to edit the text within this text box. Remember to keep your wording friendly, approachable and easy to understand as if you were talking to your customer